CELEBRATING THE LEGACY OF MARSHALL "MAJOR" TAYLOR, A PROFESSIONAL CYCLIST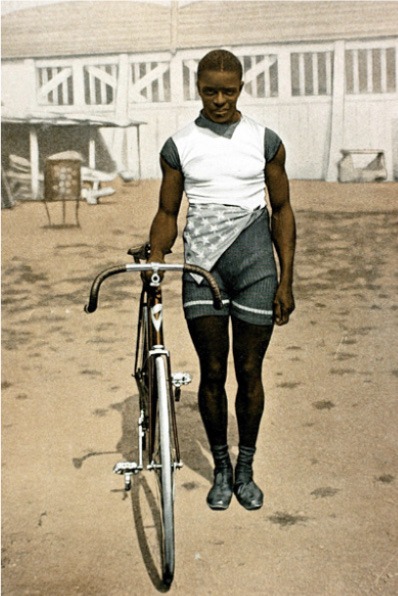 Marshall W. "Major" Taylor was an American professional cyclist born in Indiana in 1878, the same year that the United States manufactured bicycles for the first time. He had his first victory at the age of 13 when he entered into his first amateur race as a publicity stunt by his employer, a bike shop owner. Marshall worked at the bike shop where he cleaned and performed bicycle stunts in a military uniform. It is likely how he earned the nickname, Major.
Marshall turned professional in 1896 at the age of 18 and participated in multiple track events, including 6-day events. His first professional race took place at Madison Square Garden II in New York on an indoor track. Marshall was 1 of 28 competitors in a 6-day event, and he finished in 8th place, all while refusing to ride on the last day with a total of 1,732 miles within 142 hours.
Between 1898-1899, Marshall set numerous world records. In 1899, he won the sprint event at the World Track Championships to become the first African-American to achieve the cycling world champion level. He was also a national sprint champion. In 1899 and 1900, he beat the world's best cyclist.
While Marshall was breaking barriers and blazing trails, he was subject to racism and discrimination that included being barred from racing on the tracks, intimidation, verbal insults, and physical attacks such as being bumped, jostled, and elbowed while racing. Marshall challenged racial discrimination that he encountered on and off the track and became a pioneer for other athletes facing the same discrimination.
Marshall W. "Major" Taylor has been honored in numerous ways by having cycling clubs, trails, and events in the U.S. being named after him. The Major Taylor Velodrome in Indianapolis was opened in 1982 to host the U.S. Olympic Festival. The first cycling club named in his honor originated in 1979 in Columbus, Ohio. There are numerous Major Taylor cycling clubs across the country, including here in Cleveland.
You can learn more by watching the videos linked below.