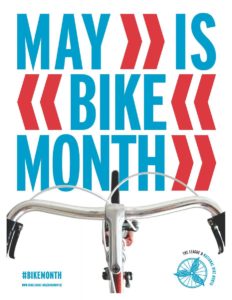 Updated on May 8 with Ride of Silence and Bike to Work Day details.
It's May, and that means we have a month full of biking-related activities in and around the Heights. From Bike the Heights Weekend May 3-5, to Bike to Work Week May 13-17, the Ride of Silence on May 15 and more, there's something for everyone regardless of biking experience and skill level.
Here's what's coming up. We'll keep you updated all month long with upcoming events, rides and other activities. Grab your two-wheeler and join us!
May 3-5: Bike the Heights Weekend
Cedar-Fairmount, Cedar-Lee and Coventry Districts, Cleveland Heights
The Cedar-Fairmount, Cedar-Lee and Coventry Special Improvement Districts will hold their first collaborative Bike the Heights weekend from May 3-5. Among many bike-related activities, HBC will hold a Bike Fix-It Day on Saturday, May 4 from 1-3 p.m. in the parking lot of the former Zoss Bakery (12397 Cedar Road). Experts will be on-hand to assess bicycles and make minor repairs. Also on Saturday, HBC will host a family-friendly ride through the districts at 3 p.m., originating and ending at the Coventry Peace Park.
Sunday, May 5: All Geared Up
1 p.m., Canterbury Elementary School, Cleveland Heights
All Geared Up will celebrate its fifth anniversary with a family-centric day of bike events, including a bike rodeo, 4-mile fun ride, a used bike sale and much more. Activities get underway at 1 p.m. at Canterbury Elementary School in Cleveland Heights. All are welcome.
Sunday, May 5: Cleveland Heights Police Bike Auction
1 p.m., Cleveland Heights Police Station, 40 Severance Circle
The Cleveland Heights Police Department will be having its annual Bicycle Auction on Sunday, May 5 at 1 p.m. on the north side of City Hall, 40 Severance Circle. This is a cash only auction and bicycles are sold as-is. Free bike licenses will also be offered to any resident who registers their bike. Officers will be on-hand to offer bicycle safety tips and answer questions.
Wednesday, May 8: Walk or Bike to School Day
Area students in kindergarten through eighth grade in Cleveland Heights-University Heights public schools and some private and parochial schools will take part in Walk or Bike to School Day. Walking or biking to school is a great way for kids to get exercise while being social, and research also shows that children who walk or bike to school arrive more ready to sit down and learn.
May 13-17: Bike to Work Week
Bike to Work Week begins on Monday, May 13 and concludes with Bike to Work Day on Friday, May 17. That morning, from 7 to 9 a.m., HBC will provide free coffee, courtesy of Phoenix Coffee, and snacks at the corner of Edgehill and Murray Hill roads in Little Italy — Northeast Ohio's most traveled commuter bike route. Stop by and say, "Hi," and meet fellow commuters as we promote cycling in the Heights and note the construction project underway at that intersection designed to make traveling there safer, whether driving, walking or biking.
Wednesday, May 15: Ride of Silence
6:30 p.m. – John Carroll University's southeast parking lot
Ride of Silence—a worldwide coordinated event—takes place each year on the third Wednesday in May. Heights-area bicyclists will meet at the southeast parking lot of John Carroll University in University Heights and pedal down to University Hospitals on Adelbert Road in University Circle, where they will be joined for a memorial observation by riders coming from the Free Stamp sculpture in downtown Cleveland. We'll announce the time and location in an upcoming newsletter and on our website, www.heightsbicyclecoalition.org.
Saturday, June 1: Best of Bricks Ride
10 a.m., Noble Neighborhood Library, Cleveland Heights
Though technically in June, Bike Month wraps up with the Best of Bricks ride on Saturday, June 1. Led by Mary Dunbar, HBC vice president and Cleveland Heights councilperson, this fun, leisurely and informative ride will start at 10 a.m. from the Noble Neighborhood Library (2800 Noble Road) in Cleveland Heights. Bicyclists will view some of Cleveland Heights' most noteworthy, interesting and historic brick structures located north of Cedar Road.
This is just a sampling of the many Bike Month activities happening in and around the Heights.