Experience Winter on a Bike
Winter cycling is cool. Sometimes it is actually cold. But, with the proper clothes and equipment, it is a great way to be outside and experience the awe and beauty of winter in both the city and on the trail.
The hearty winter cyclists that keep the pedals turning all year long are brethren to skiers, ice skaters and ice fisherman and use some of the same equipment. Warm mittens, snow boots and pants, parkas and goggles are all non-cycling specific clothing that are perfect for winter riding.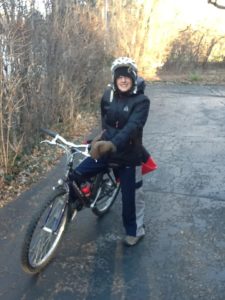 And then there is the bike. Skinny tires are out. Knobby or other specialty tires will provide traction in snow and ice, disc brakes are good for more consistent stopping power and it is good to ride a hearty frame that will be subjected to lots of salt.
While winter cyclists are still a minority, more people are seeking fitness and transportation on two wheels in the winter.
One of the area's winter bike commuters is Cleveland Heights resident Alice Stratton. She rides one mile to her job as physical education teacher at Fairfax School.
"Normally," she said, "I ride on any day that it isn't too icy." When she first began winter riding, she would abdomen the bike as soon as the temperatures dropped to below freezing. But now she rides as long as the temperatures are above 20.
Stratton said she gets odd looks at school – from other teachers.  "They think I'm crazy," she said.  "But one teacher commutes by car from Hudson, and she said she felt like crying because she's so envious when she sees me on my bike.
Stratton's winter commuter machine is a mountain bike with fat nubby tires "because of potholes, and it's better on snow and ice," she said.  She takes main roads when it's snowy, because they're better plowed than side streets.  "But side streets have less traffic and are a more relaxing ride," she said.
"It feels good to begin and end the day outdoors, using a different part of your brain and breathing fresh air," she said.
For cyclists interested in learning more about winter cycling, see IceBike.