Ever wonder who sends our e-mails to your inbox? Or who might be leading a troop of bikers down the road? Read our Board Member profiles below to get a sense of who helps organize the HBC.
The all-volunteer Board consists of up to 15 members, including four officers: President, Vice-President, Treasurer and Secretary, as well as Committee Chairs.
Tap into your biking passion – join the HBC Board – elections are held in April at the Annual Member Meeting – or become a volunteer!  Contact us at chbikecoalition@gmail.com.
Jessica Yox, President
Jessica Yox is one of the busiest cycling advocates in the area. When not out helping with her husband's company, Two-One-Fix Bicycle, she can be found working in the Cleveland School District or building collaborations between many of the area organizations and individual riders.
Mary Dunbar, Vice President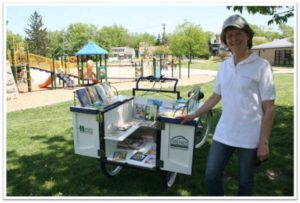 Mary Dunbar enjoys getting around town and foreign countries, too, on a bicycle. Since 2008, she has bicycled in Italy, Costa Rica, Spain, France, Belgium, Holland, India and Ecuador. She entered her first bicycling races in 2012 and competed in the 2013 National Senior games, winning two ribbons in bicycle races.
She is committed to helping the Heights become more bicycle friendly, both as president of the Heights Bicycle Coalition and a member of Cleveland Heights City Council. She serves as Council liaison to the City's Transportation Advisory Committee.  She finds the officers, directors and members of the Heights Bicycle Coalition to be among the most delightful and intelligent Heights residents.
E-mail: mary@bikesintheheights.org
Steve Reinhardt, Secretary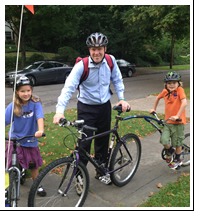 Steve grew up in St. Louis, Missouri and remembers saving his money for his first 10-speed as a kid: a Huffy Sundance with a denim seat and handlebar tape.
After college, he settled in Chicago with his well-worn Brodie and amazing wife and together they biked along Lake Michigan and around the Midwest for 15 years. After getting the chance to move to Cleveland in 2003 to be closer to family, he has embraced this wonderful city and all it has to offer. He can be seen commuting around town with his wife and three kids.
Steve is proud to be a part of the Heights Bicycle Coalition and chairs the Governance committee.
Gary Franke, Treasurer
Gary recently located to Cleveland Heights and brings enthusiasm for long distance bike riding and tandem bikes as well as past experience as a board treasurer for another non-profit organization.
Jamie Babb, Communications Committee Co-Chair
Jamie has expertly co-managed communications for HBC for the past two years.
Deb Franke, Events Committee Chair
Deb recently retired and has somehow gotten busier. She is the energy behind all of the rides we put on each year.
Evan Guarr, Safety Committee Chair
Evan has continued his love of road cycling after graduating from CWRU. He is still active with CWRU's Cycle Club and currently runs a Chemistry lab on campus.
Corrie Holliday
Corrie is a long-time biking advocate and HBC member who really dislikes the silt area under the train bridge in University Circle when she commutes via the Harrison-Dillard Bikeway.
Brian King
Brian has been active in the larger Cleveland cycling scene for some time and has recently starting working with the University Heights mayor on ways to improve and promote cycling in their community.
Gary Lustic
Gary is another example of a recently retired community member who is even busier now. Gary is also active in the Friends of Cain Park organization and works with the area Parks departments to help promote cycling through maps and education.
John Reebel
John is a retired John Carroll University faculty member who also is an active member of the Doan Brook Watershed Partnership.
Angel Reyes, Communications Committee Co-Chair
Angel is currently a post-doc at Cleveland Clinic and is co-chairing our Communications committee focusing on social media.
Ben Seligman
Ben moved to Cleveland in 2017 from Chicago and brings his experience working with a similar organization, the Active Transportation Alliance, in that city. He can often be found riding in the Heights with his family.